HP-M300 CNC Turret Punch Machine
---
With strong support from SJR Machinery, Toptech Smac now is able to offer both metal cutting and metal forming machines to our valued customers. The produce lines include lathes, milling machines, grinding machines, power presses and hydraulic press brakes, CNC machines. With timely service and on-site training, our qualified technicians can ensure the machines' maximum productivity. Toptech Smac also provides industrial solutions for your individual needs.
Keywords: machine tool 丨 grinding machine 丨 CNC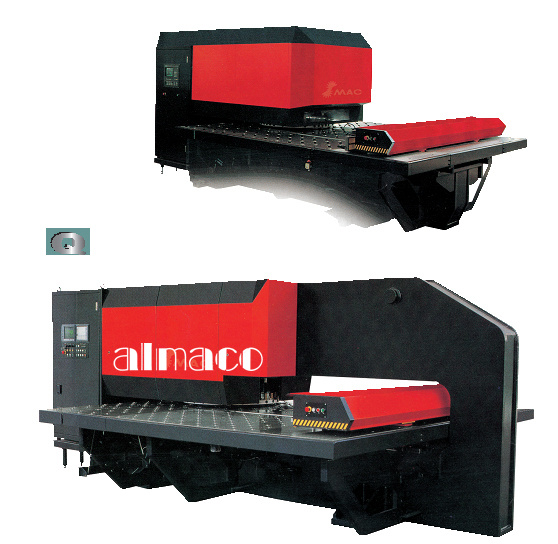 HP-M300 CNC Turret Punch Machine
The high precision large traverse ballscrews and linear guideways with reliability are equipped for driving
The reliable national level CNC systems is fitted with the machine.
To make the machine more reliable, the import cluch is used.
The main pneumatic parts are imported name ones to make the mechanism more reliable.
The fully bushed high precision turret improves efficiently the accuracy and longevity of the turret, and the 24 or 32 stations is optional.
The advanced working and heat treatment technology is adopted to the tools for the longevity of the tools.
Tooling layout
Stations number

Tooling diameter rang

Tooling number

24 stations

Φ88.9-Φ32

Φ7/2-Φ5/4

4

32 stations

Φ32-

Φ5/4

20

Φ88.9-Φ32

Φ7/2-Φ5/4

4

Φ32-

Φ5/4

28
Specification

Unit

HP-M300

punch force

KN

KN

300

300

Max. sheet working size

mm

in

1250 x 2500

50 x 100

Max. sheet working welth

kg

lb

150

330

max. sheet thickness

mm

in

6.35

0.254

Max. Punch diameter

mm

in

Φ88.9

Φ3.56

Number of tool stations

24, 32

24, 32

Positionzing repetability

mm

in

0.1

0.004

Max. hit speed

hpm

hpm

300

300

Pax. traversing speed

m/min

in/min

56

2240

Turret rotation

rpm

rpm

30

30

Axis number

3

3

Compressed air pressure

mpa

mpa

0.6

0.6

Shipping dimensions

mm

in

500 x2680 x2175

20x107.2 x87

Machine weight

ton

lb

13

28600