WC67K Series Press Breake
---
With strong support from SJR Machinery, Toptech Smac now is able to offer both metal cutting and metal forming machines to our valued customers. The produce lines include lathes, milling machines, grinding machines, power presses and hydraulic press brakes, CNC machines. With timely service and on-site training, our qualified technicians can ensure the machines' maximum productivity. Toptech Smac also provides industrial solutions for your individual needs.
Keywords: machine tool 丨 grinding machine 丨 CNC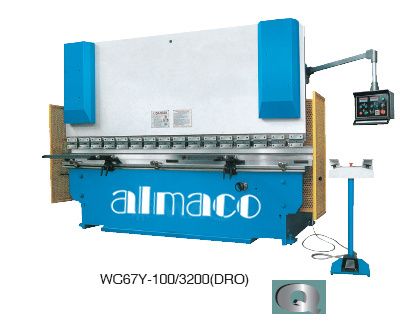 SPECIFICATION AND FEATURE:
All steel welded structure, vibrating treatment of ageing for removal of internal stress, with good rigidity and stability.
Torsion shaft forced synchronization of mechnaical limit stopper balance, with high precision.
Integrated hydraulic transmission system, large range of speed regulation thanks to transmission of thesliding block, stable and reliable performance.
Rear stopper and the sliding block have electrical adjustment for their stroke, with manual fine tuning, and digital indication.
Adjustment mechanism of sliding block independent from oil cylinder assembly to enhance sealing effect upper mold is fitted with tilting warp offset mechanism.
For bending machine from 250 t up synchronization mechanism of mechanical or electrical hydraulic transmission is fitted, lower working table is fitted with warp offset mechnaism.
Multi machine combined operation is possible.

| | | | | | |
| --- | --- | --- | --- | --- | --- |
| | Models | Pessing force (KN) | Working length (mm) | Dist between housings (mm) | Depth of throat (mm/s) |
| 10702 | 40/2000 | 400 | 2000 | 1615 | 200 |
| 10703 | 63/2500 | 630 | 2500 | 2020 | 250 |
| 10704-1 | 80/2500 | 800 | 2500 | 2015 | 250 |
| 10704 | 80/3200 | 800 | 3200 | 2565 | 250 |
| 10705 | 100/3200 | 1000 | 3200 | 2555 | 320 |
| 10706 | 100/4000 | 1000 | 4000 | 3105 | 320 |
| 10707 | 125/3200 | 1250 | 3200 | 2550 | 320 |
| 10707-1 | 125/4000 | 1250 | 4000 | 3100 | 320 |
| 10708 | 160/3200 | 1600 | 3200 | 2550 | 320 |
| 10709 | 160/4000 | 1600 | 4000 | 3100 | 320 |
| 10709-1 | 200/3200 | 2000 | 3200 | 2250 | 320 |
| 10710 | 200/4000 | 2000 | 4000 | 3140 | 320 |
| 10710-1 | 250/3200 | 2500 | 3200 | 2430 | 400 |
| 10711 | 250/4000 | 2500 | 4000 | 3120 | 400 |
| 10713 | 250/5000 | 2500 | 5000 | 3800 | 400 |
| 10714 | 300/5000 | 3000 | 5000 | 3820 | 400 |
| 10715 | 400/4000 | 4000 | 4000 | 3110 | 400 |
| 10716 | 500/3200 | 5000 | 3200 | 2300 | 400 |
| | | | | |
| --- | --- | --- | --- | --- |
| Stroke of The ram (mm) | Approaching speed (mm/s) | Working speed (mm/s) | Returning speed (mm/s) | Adjustmentof ram travel (mm) |
| 100 | 100 | 8 | 70 | 70 |
| 100 | 90 | 8 | 70 | 70 |
| 100 | 90 | 8 | 70 | 70 |
| 100 | 90 | 8 | 70 | 70 |
| 130 | 80 | 10 | 60 | 85 |
| 130 | 80 | 10 | 60 | 85 |
| 130 | 80 | 8 | 60 | 85 |
| 130 | 80 | 8 | 60 | 85 |
| 150 | 80 | 9.5 | 60 | 110 |
| 150 | 80 | 9.5 | 60 | 110 |
| 200 | 70 | 7.5 | 60 | 110 |
| 200 | 70 | 7.5 | 60 | 110 |
| 250 | 70 | 7.5 | 66 | 120 |
| 250 | 70 | 7.5 | 66 | 120 |
| 250 | 70 | 7.5 | 66 | 150 |
| 250 | 60 | 5 | 48 | 110 |
| 250 | 58 | 6.5 | 42 | 110 |
| 250 | 80 | 8.5 | 75 | 120 |
| | | | |
| --- | --- | --- | --- |
| Dest between table and ram (mm) | Motor power (kw) | Weight of machine (kg) | L x W x H (mm) |
| 340 | 4 | 3000 | 2100x1150x2000 |
| 335 | 5.5 | 4000 | 2600x1300x2090 |
| 350 | 5.5 | 4600 | 2600x1300x2180 |
| 350 | 5.5 | 5500 | 3300x1300x2200 |
| 380 | 7.5 | 6600 | 3300x1410x2320 |
| 380 | 7.5 | 8200 | 4100x1415x2450 |
| 380 | 7.5 | 7300 | 3300x1460x2450 |
| 380 | 7.5 | 8700 | 4100x1465x2505 |
| 400 | 11 | 8900 | 3300x1540x2460 |
| 400 | 11 | 11500 | 4100x1540x2650 |
| 435 | 15 | 10900 | 3300x1715x2765 |
| 460 | 15 | 13300 | 4100x1715x2950 |
| 460 | 15 | 14500 | 3300x1980x3020 |
| 460 | 15 | 18000 | 4100x1750x3700 |
| 460 | 15 | 31300 | 5100x1750x3800 |
| 560 | 15 | 29000 | 5100x2245x4210 |
| 630 | 30 | 30000 | 4100x2315x4035 |
| 630 | 30 | 26000 | 3300x2300x3785 |