HPC CNC Pressbrake
---
With strong support from SJR Machinery, Toptech Smac now is able to offer both metal cutting and metal forming machines to our valued customers. The produce lines include lathes, milling machines, grinding machines, power presses and hydraulic press brakes, CNC machines. With timely service and on-site training, our qualified technicians can ensure the machines' maximum productivity. Toptech Smac also provides industrial solutions for your individual needs.
Keywords: machine tool 丨 grinding machine 丨 CNC
The body is steel welded with the fixture installed at one time. It is processed by numerical control BUTLER machining center, ensuring high rigidity and processing accuracy.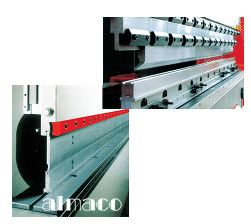 The die sections have different lengths, which can be combined with a certain width to meet the processing requirements of special workpieces.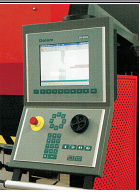 The numerical control systems are top brand Holland Delem's DA65W. It also features the most advanced electronic board, intelligent modular structure,built-in PLC function, automatic programming and bending simulation, all around shock inspection, remote diagnosis, high resolution color TFT display and Chinese menu.
The upper die hydraulic automatic fastener or quick fastener and plug-in lower die can be equipped based on the customer requirement to reduce work load improve productivity.

The hydraulic system adopts the integrated one, which helps to reduce piping connection, eliminated oil leakage, improve the work stability, and beautify the machine appearance. The inner engaged gear pump manufactured by a famous German company is used to reduce the system noise and extend the service life.
Specification HPC

Unit

3/100 10011

4 /100 10012

3/ 150 10013

4/150 10014

3/225 10015

4/225 10016

3/320 10017

4/320 10018

4/440 10019

Foree

KN

KN

1000

1000

1000

1000

1500

1500

1500

1500

2250

2250

2250

2250

3200

3200

3200

3200

Table

mm

in

3100

124

4100

164

3100

124

4100

164

3100

124

4100

164

3100

124

4100

164

Dist of frame

mm

in

2600

104

3600

144

2600

104

3600

144

2600

104

3600

144

2600

104

3600

144

Throat

mm

in

400

16

400

16

400

16

400

16

400

16

400

16

400

16

400

16

Stroke

mm

in

215

8.6

215

8.6

215

8.6

215

8.6

215

8.6

215

8.6

265

10.6

265

10.6

High speed

mm/s

in/s

120

4.8

120

4.8

120

4.8

120

4.8

120

4.8

120

4.8

120

4.8

120

4.8

Working speed

mm/s

in/s

10

0.4

10

0.4

9

0.36

9

0.36

9

0.36

9

0.36

9

0.36

9

0.36

Return speed

mm/s

in/s

80

3.2

80

3.2

80

3.2

80

3.2

80

3.2

80

3.2

80

3.2

80

3.2

Weight

Kg

lb

8050

17710

8050

17710

9650

21230

13800

30360

14050

30910

17800

39160

19500

42900

23500

51700