3 Roller Bending Machine
---
With strong support from SJR Machinery, Toptech Smac now is able to offer both metal cutting and metal forming machines to our valued customers. The produce lines include lathes, milling machines, grinding machines, power presses and hydraulic press brakes, CNC machines. With timely service and on-site training, our qualified technicians can ensure the machines' maximum productivity. Toptech Smac also provides industrial solutions for your individual needs.
Keywords: machine tool 丨 grinding machine 丨 CNC
Side wheel for angle steel/steel pipe bending are available(Supplied on customers request)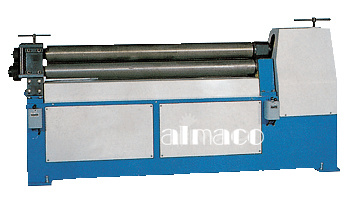 The up and down parts of W11 series three roller bending machine utilizes a machine construction. The transportation parts being machine driven. The upper roller can be moved up and down by the motor to discharge the workpiece. The machine can according to customer's requirement be supplied with specific rollers to work ange and steel pipe.
| | | | | | | | | | | |
| --- | --- | --- | --- | --- | --- | --- | --- | --- | --- | --- |
| | Model | Maximum thickness (mm) | Maximum width(mm) | Yield limit (MPa) | Minimum diameter full capacity(mm) | Top roller diameter (mm) | Bottom roller diameter (mm) | Motor (kg) | Weight (kg) | Size (L.W.H) |
| 11424 | W11Y16 x 2500 | 16 | 2500 | 245 | 600 | 320 | 250 | 7.5 | 11000 | 4660 x 1420 x 1640 |
| 11425 | W11Y16 x 3100 | 16 | 3100 | 245 | 600 | 360 | 290 | 11 | 13000 | 5260 x 1420 x 1640 |
| 11426 | W11Y20 x 2500 | 20 | 2500 | 245 | 600 | 360 | 290 | 11 | 12000 | 4660 x 1420 x 1640 |
| 11427 | W1110 x 1300 | 10 | 1300 | 245 | 400 | 210 | 190 | 5.5/2.2 | 2425 | 2940 x 1100 x 1270 |
| 11428 | W118 x 2500 | 8 | 2500 | 245 | 600 | 230 | 190 | 5.5/3 | 3485 | 4100 x 1100 x 1270 |
| 11429 | W118 x 2000 | 8 | 2000 | 245 | 400 | 210 | 190 | 5.5/3 | 2890 | 3700 x 1100 x 1270 |
| 11430 | W116 x 3100 | 6 | 3100 | 245 | 500 | 240 | 210 | 5.5/2.2 | 5390 | 4600 x 1150 x 1450 |
| 11431 | W116 x 2500 | 6 | 2500 | 245 | 400 | 210 | 190 | 5.5/3 | 3195 | 4100 x 1100 x 1270 |
| 11432 | W113 x 4100 | 3 | 4100 | 245 | 400 | 220 | 180 | 5.5/3 | 3500 | 5100 x 860 x 950 |
| 11433 | W113 x 3100 | 3 | 3100 | 245 | 400 | 200 | 165 | 5.5/3 | 2720 | 4700 x 1000 x 1270 |
| 11434 | W114 x 1300 | 4 | 1300 | 245 | 200 | 135 | 110 | 3/1.5 | 1060 | 2250 x 720 x 1300 |
| 11435 | W114 x 1600 | 3 | 1600 | 245 | 200 | 135 | 110 | 3/1.5 | 1450 | 2600 x 720 x 1300 |
| 11436 | W113 x 2000 | 3 | 2000 | 245 | 200 | 135 | 110 | 3/1.5 | 1650 | 2800 x 720 x 1300 |