W11S Hydraulic Rolling Machine
---
With strong support from SJR Machinery, Toptech Smac now is able to offer both metal cutting and metal forming machines to our valued customers. The produce lines include lathes, milling machines, grinding machines, power presses and hydraulic press brakes, CNC machines. With timely service and on-site training, our qualified technicians can ensure the machines' maximum productivity. Toptech Smac also provides industrial solutions for your individual needs.
Keywords: machine tool 丨 grinding machine 丨 CNC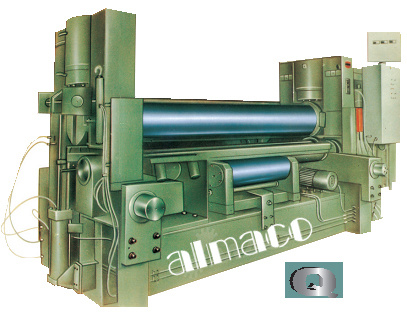 W11S Hydraulic Rolling Machine
The upper roll can move vertically as well as horziontally.
It has double function of pre-bending and rounding.
The upper roll in drum-type, and support roll is added to the lower roll. Through regulations of the support roll, it can coil high precision.
Products to the extent of thin-thick plates.
Realize NC control and single-person operation. Simple & reliable, greatly raising efficiency.
Add up tapering reel and realize zero-piece coiling with great taper.
Vertical & horizontal motion of the upper roll is digitally indicated. Setting of motion scope is distinctive and direct.
Excellent precision products can be obtained because of continuous bending and end prebending of high
precision, Besides, with the drum shape of the TOP roller and the coordinating adjustment of the back-up roller,you can make ideal bending products from thin to thick plates with a wide recam.
Model

Specification

Maximum thickness (mm)

Maximum width (mm)

Top roller diam eter (mm)

Bottom roller diameter (mm)

Distance between bottom rollers

Main motor power (mm)

Hydraulic motor power (kw)

Traveling motor power

11501

W11S-3 x 3200

3

3200

245

135

centre (mm)180

4

2.2

0.75

11502

W11S-6 x 1500

6

1500

175

125

160

3

2.2

0.75

11503

W11S-6 x 2000

6

2000

220

135

180

4

2.2

0.75

11504

W11S-6 x 2500

6

2500

245

135

180

4

2.2

0.75

11505

W11S-8 x 2000

8

2000

235

135

180

4

2.2

0.75

11506

W11S-8 x 2500

8

2500

255

145

200

7.5

4

0.75

11507

W11S-8 x 3000

8

3000

280

145

200

7.5

4

0.75

11508

W11S-12 x 2000

12

2000

255

150

245

7.5

4

0.75

11509

W11S-12 x 2500

12

2500

300

165

270

11

5.5

1.5

11510

W11S-12 x 3000

12

3000

350

180

300

11

5.5

2.2

11511

W11S-16 x 2000

16

2000

300

165

270

11

5.5

1.5

11512

W11S-16 x 2500

16

2500

330

180

300

11

5.5

2.2

11513

W11S-16 x 3200

16

3200

400

220

360

22

7.5

4

11514

W11S-20 x 2000

20

2000

370

220

360

22

7.5

4

11515

W11S-20 x 2500

20

2500

380

220

360

22

7.5

4

11516

W11S-20 x 3000

20

3000

425

235

380

30

4

11517

W11S-25 x 2000

25

2000

390

220

360

22

7.5

4

11518

W11S-25 x 2500

5

2500

410

235

380

30

4

11519

W11S-30 x 2000

30

2000

410

235

380

30

4

11520

W11S-25 x 3000

25

3000

450

250

400

37

15

5.5

11521

W11S-25 x 4000

25

4000

550

275

460

37

18.5

7.5

11522

W11S-30 x 2500

30

2500

460

260

420

37

18.5

5.5

11523

W11S-30 x 3000

30

3000

500

275

460

37

18.5

7.5

11524

W11S-30 x 3200

30

3200

510

275

460

37

18.5

7.5

11525

W11S-30 x 4000

30

4000

580

290

500

45

18.5

7.5

11526

W11S-35 x 2000

35

2000

460

260

420

37

18.5

7.5

11527

W11S-35 x 2500

35

2500

500

275

460

37

18.5

7.5

11528

W11S-35 x 3000

35

3000

540

290

500

45

18.5

7.5

11529

W11S-35 x 4000

35

4000

630

340

610

55

22

11

11530

W11S-40 x 2000

40

2000

500

275

460

37

18.5

7.5

11531

W11S-40 x 2500

40

2500

520

290

500

45

18.5

7.5

11532

W11S-40 x 3000

40

3000

590

340

610

55

22

11

11533

W11S-50 x 2500

50

2500

620

360

650

75

22

15

11534

W11S-50 x 3000

50

3000

650

380

700

75

22

15

11535

W11S-50 x 3200

50

3200

665

380

700

75

22

15

11536

W11S-60 x 3000

60

3000

710

420

780

90

30

15

11537

W11S-70 x 3200

70

3200

770

460

880

110

30

22

11538

W11S-80 x 3000

80

3000

830

500

960

110

30

22

11539

W11S-90 x 3000

90

3000

860

520

180

110

37

30

11540

W11S-100 x3000

100

3000

900

560

180

110

45

37

11541

W11S-TNC

as above

11542

W11S-TNC

as above

11543

W11S-TNC

as above