Profile Rolling Machine
---
With strong support from SJR Machinery, Toptech Smac now is able to offer both metal cutting and metal forming machines to our valued customers. The produce lines include lathes, milling machines, grinding machines, power presses and hydraulic press brakes, CNC machines. With timely service and on-site training, our qualified technicians can ensure the machines' maximum productivity. Toptech Smac also provides industrial solutions for your individual needs.
Keywords: machine tool 丨 grinding machine 丨 CNC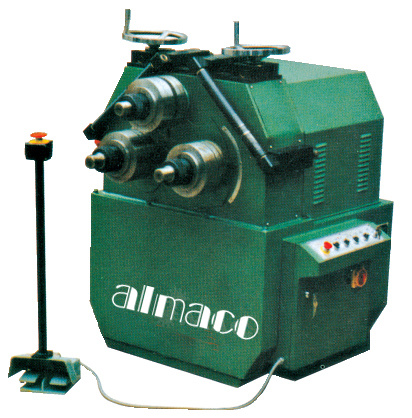 The W24 Profile Bender is a hight-difficiency processing equipment for bending angle bar, channel bar, l bar, flat bar, square bar, round bar and various special-shaped bars. Rolling and calibration can be completed by one feeding.
For optional, only while bending tube, the rolls should be ordered optional & changed, the price of the rolls is differents according to diameter of pipe, all other angle steel, channel steel, flat bar etc are no need to buy rolls.
Specification

Model

Unit

12201

12202

12203

12204

12205

12206

W24-5

W24-10

W24-30

W24-45

W24-75

remark

Shafts diameter

mm

60.60.60

70.70.70

Rolls diameter

mm

180

200

Three rolls can be

Shafts speed

r/min

10

5

5

5

5

diffrent

Driving manner

three shafts driving

three shafts driving

three shafts driving

three shafts driving

three shafts driving

Special order

Motor power

K.W.

3

3

5.5

5.5

7.5

Brake motor

Max. Antibend. module work piece

cm3

8

10

30

45

7.5

Overall sizes

mm

700 x 700 x 1350

870 x 850 x 1400

2060 x 1190 x 1300

2060 x 1260 x 1530

2800 x 1600 x 1700

Weight of machine

kg

12201

1500

4000

5900

8000