Hydraulic Section
---
With strong support from SJR Machinery, Toptech Smac now is able to offer both metal cutting and metal forming machines to our valued customers. The produce lines include lathes, milling machines, grinding machines, power presses and hydraulic press brakes, CNC machines. With timely service and on-site training, our qualified technicians can ensure the machines' maximum productivity. Toptech Smac also provides industrial solutions for your individual needs.
Keywords: machine tool 丨 grinding machine 丨 CNC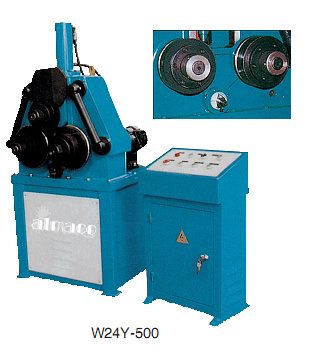 Section Bender is an efficient processing machine whick is specially designed to bend I steel, U steel, flat beam, solid bar,etc. It has three working rollers, the positions of the two bottom rollers can be adjusted along the arc. Assisting rollers are installed on both sides of the machine to control the work quality in the bending of proportional steel sections. The machine is reliable to operate with various functions and is an ideal bending machine that's adjustable and able to deal wit different types of materials and specifications only by recombining the die settings. This removes the need to change dies.
The machine offers low cost with flexibility and reliability.
Item

W24-400

W24Y-500

W24

Yield limit

245

245

245

Minimum beading Dia (Angle steel leg out)

200-400

300-400

400-600

Capacity

L40x4

L50x5

L75x7

Dinension

L mm

1000

1200

1320

W mm

750

750

950

H mm

1350

1580

1270

Weight

kg

500

900

2500

Main motor

kw

2.2/1.5

2.2-2.2

4/2.2