Hand Folder
---
With strong support from SJR Machinery, Toptech Smac now is able to offer both metal cutting and metal forming machines to our valued customers. The produce lines include lathes, milling machines, grinding machines, power presses and hydraulic press brakes, CNC machines. With timely service and on-site training, our qualified technicians can ensure the machines' maximum productivity. Toptech Smac also provides industrial solutions for your individual needs.
Keywords: machine tool 丨 grinding machine 丨 CNC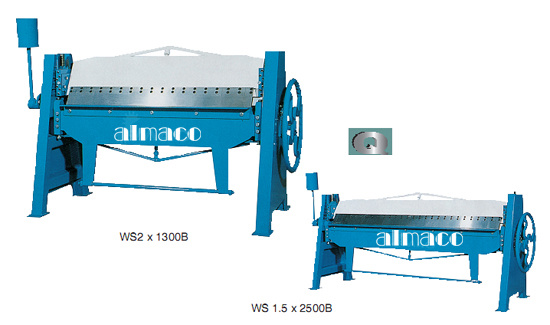 With SJR's 20 years experience in producing hand folders, our hand folders are many types and incorporate all the outstanding eatures found in products of this series. Its strong point is that both its up and down movements are adjustable.
It can process workpieces according to the customer!ˉs requirement. They can fold sheet into a box/pan with four sides
Hand folders are suitable for duct making, metal box forming and pan processing and can be sued on the silte. They are in great demand all over the world for the light design, economical use and efficiency. They are an ideal piece of equipment all occasion.
| | | | | | | |
| --- | --- | --- | --- | --- | --- | --- |
| | Model | Bending length (mm) | Folding thickness for mildsteel (mm) | Folding angle | Weight (kg) | Dimension (L.W.H) |
| 10955 | WS1.2 x 1300B | 1300 | 1.2 | 60° | 290 | 1850 x 800 x 1350 |
| 10956 | WS1.2 x 1500B | 1500 | 1.2 | 60° | 360 | 2100 x 800 x 1100 |
| 10957 | WS1.2 x 2000B | 2000 | 1.2 | 60° | 460 | 2860 x 900 x 1600 |
| 10958 | WS1.5 x 1000B | 1000 | 1.5 | 60° | 230 | 1550 x 800 x 1100 |
| 10959 | WS1.5 x 1300B | 1300 | 1.5 | 60° | 390 | 1800 x 750 x 1370 |
| 10960 | WS1.5 x 1500B | 1500 | 1.5 | 60° | 480 | 2130 x 820 x 1370 |
| 10961 | WS1.5 x 2000B | 2000 | 1.5 | 60° | 700 | 2720 x 820 x 1360 |
| 10962 | WS1.5 x 2500B | 2500 | 1.5 | 60° | 1200 | 3150 x 800 x 1530 |
| 10963 | WS2 x 1300B | 1300 | 2 | 60° | 520 | 1930 x 820 x 1370 |
| 10964 | WS2 x 1500B | 1500 | 2 | 60° | 580 | 2190 x 650 x 1380 |
| 10965 | WS2 x 2000B | 2000 | 2 | 60° | 1150 | 2860 x 900 x 1600 |
| 10966 | WS2 x 2500B | 2500 | 2 | 60° | 1500 | 3260 x 900 x 1600 |
| 10967 | WS2 x 3100B | 3100 | 2 | 60° | 2800 | 3800 x 800 x 1200 |
| 10968 | WS2.5 x 1300B | 1300 | 2.5 | 60° | 700 | 1950 x 800 x 1360 |
| 10969 | WS2 x 2050BR | 2050 | 2 | 60° | 1160 | 2720 x 800 x 1160 |
| 10970 | WS2 x 2500BR | 2500 | 2 | 60° | 1520 | 3150 x 800 x 1530 |
| 10971 | WS1.2 x 2180A | 1300 | 1.2 | 40° | 290 | 1960 x 750 x 1350 |
| 10972 | WS1.2 x 1500A | 1500 | 1.2 | 40° | 350 | 2250 x 750 x 1350 |
| 10973 | WS1.2 x 2000A | 2000 | 1.2 | 40° | 400 | 2730 x 750 x 1360 |