JL21G Series Open-type
---
With strong support from SJR Machinery, Toptech Smac now is able to offer both metal cutting and metal forming machines to our valued customers. The produce lines include lathes, milling machines, grinding machines, power presses and hydraulic press brakes, CNC machines. With timely service and on-site training, our qualified technicians can ensure the machines' maximum productivity. Toptech Smac also provides industrial solutions for your individual needs.
Keywords: machine tool 丨 grinding machine 丨 CNC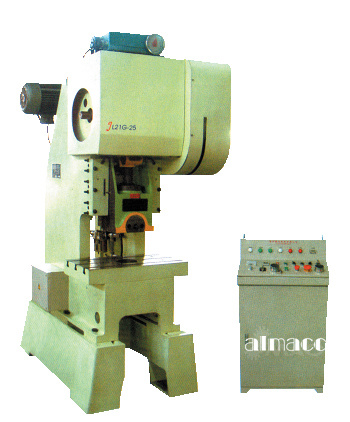 JL21G Series Open-type
Main performance features:
Steel-welded frame, high righdity and less deformation. The stronger cast iron base, to reduce vibration and noise and improve the working environment.
Pneumatic conbination frction clutch-brake, low noise, long service life, lage clutch torque and small braking angle, to ensure reliable safety and flexible action.
Eccentric axles adopted for the crankshaft, which is far stronger than the ordinary crankshafts, and is capaable of withstanding work force without deformation.
PLC electrical control system, to ensure convenient maintenance and easy operation.
Automatic grease lubrication system, to ensure smooth operation.
Air chamber device, to plus balance the slide and the weight of the upper die ensuring higher stability of operation.
Technical Data

Model

11306

11307

11308

11309

Items

JL21G-16

JL21G-25

JL21G-45

JL21G-63

Nominal Pressure

KN

160

250

450

600

Nominal Pressure Storke

mm

1.5

1.5

1.5

1.5

Storke of slider

mm

20

20

30

30

Strokes

S.P.M

150-500

150-500

150-450

150-400

Max. Die Set Height

mm

200

220

250

280

Die Height Adjustment

mm

50

50

50

50

Depth of Throat

mm

160

190

235

270

Distance Between Uprights

mm

280

320

350

400

Size of table

L-R

mm

600

660

720

850

F-B

mm

300

360

450

520

Thickness

mm

60

85

95

120

Bottom Size of Slide

L-R

mm

200

350

460

540

F-B

mm

180

270

300

350

Hole for Punch Shank

Diameter

mm

Φ30H7

Φ40H7

Φ40H7

Φ50H7

Depth

mm

60

70

70

85

Main Motor Power

kW

3

4

7.5

11

Overall Dimensions (L-R X F-B X H)

mm

800 x 1200 x 1800

920 x 1300 x 2055

1000 x 1500 x 2250

1245 x 1890 x 2615

Tolal Weight

kg

200

2500

3800

4500