Y32 Hydraulic Press
---
With strong support from SJR Machinery, Toptech Smac now is able to offer both metal cutting and metal forming machines to our valued customers. The produce lines include lathes, milling machines, grinding machines, power presses and hydraulic press brakes, CNC machines. With timely service and on-site training, our qualified technicians can ensure the machines' maximum productivity. Toptech Smac also provides industrial solutions for your individual needs.
Keywords: machine tool 丨 grinding machine 丨 CNC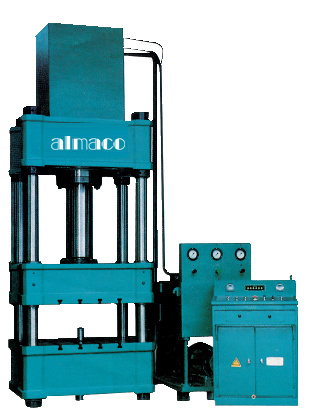 Y32 Hydraulic Press
Application of machine
Y32 Serial Press composed of main body and control devices which respectively formed with frame, main cylinder, knock-out cylinder, hydraulic system and drive mechanism, lower and upper limit switches pipe lines, electrical control cabinet and etc.
Drive mechanism includes oil tank, high pressure pumps, low pressure control sytem,valves, Electrical control system is designed according to the working procedure of hydraulic principle. By preset, sequential operation can be achieved by drive mechanism via pumps,cylindres, valves, tank and pipe lines.
The press Y32 is appliable to compression of plastic materials, For example, powder and plastics products forming and heat/cool metal extrusion, metal sheet drawing, stamping,bending,edge-folding, straightening, depressed mounting and etc.
Independent drive structures and electrical devices insure reliable operation with centered control buttons. Adjustment, manual operation and semi-automatic operation, three modes are provided respectively for your choice.
The working pressure, pressing speed, unload-descending speed and decelerated pressing speed can be respectively adjusted in reqirements.
By preset, knock-out, non-knock-out and drawing can be taken out with pressure-depentdent or distance-dependent movement of die. In the case of pressure-dependent movement, the main cylinder of YQ32 type press initiates pressure-holding, time delay and automatic return.
Specification

Model

Unit

11601

11602

11603

11604

11605

11606

11607

11608

11609

11610

11611

YQ32-40

YQ32-63

YQ32-100

YQ32-100A

YQ32-160

YQ32-200

YQ32-315

YQ32-400

YQ32-500

YQ32-500C

YQ32-630

Nominal force

KN

400

630

1000

1000

1600

2000

3150

4000

5000

5000

6300

Knock-out force

KN

120

190

190

190

240

400

630

630

1000

1000

1000

Max. working hydraulic pressure

Mpa

25

25

25

25

25

25

25

25

25

25

25

Slide-stroke

mm

450

500

600

600

700

700

800

800

900

900

900

Knock-out stroke

mm

150

200

200

200

200

250

300

300

350

350

350

Max. distance between lower sur-face of slide and surface of table

mm

700

800

900

900

1050

1100

1250

1300

1500

1500

1600

Slide-travel speed

Idledown running

mm/s

40

100

22

180

120

100

100

100

100

100

100

Working

mm/s

15

20

14

14

10

12

5

4

10

10

6

Return

mm/s

50

60

47

60

60

52

60

60

60

60

50

Effec-tive area of table

Left-right

mm

500

560

680

500

1000

1000

1200

1200

1400

2370

1500

Front-back

mm

460

500

580

460

800

900

1200

1200

1400

1450

1500

Overall dimen-sion

Left-right

mm

2000

2400

2500

2000

2700

2825

3235

3235

4060

6500

4200

Front-back

mm

1300

1400

1500

1300

1700

2060

2200

2200

3525

3800

4200

Height above ground

mm

2600

3100

2950

2600

3400

3725

4295

4500

4995

4740

5600

Total motor power

kw

4

7.5

7.5

4

7.5

15

22

22

45

45

45

Weight

kg

2000

3000

4000

2000

6000

11000

14000

22000

25000

38000

34000