YAN79 Series Hydraulic Press
---
With strong support from SJR Machinery, Toptech Smac now is able to offer both metal cutting and metal forming machines to our valued customers. The produce lines include lathes, milling machines, grinding machines, power presses and hydraulic press brakes, CNC machines. With timely service and on-site training, our qualified technicians can ensure the machines' maximum productivity. Toptech Smac also provides industrial solutions for your individual needs.
Keywords: machine tool 丨 grinding machine 丨 CNC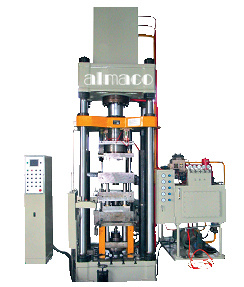 YAN79 Series Hydraulic Press
Main Structure Features:
YAN79 series hydraulic presses for auto-power-forming are mainly used in powder metallurgy of structure parts and production of mechanical parts, and also suited for press forming of precision ceramics, electronics ceramics and carbide.
Hydraulic presses of this series have separated hydraulic and electrical systems, and auto feeding and discharging apparatus. They have the special functions of floating pressing and demould protection.
Since their electrical control is realized with PLC programmable controller,all press buttons are centralized for easy operation and a killer-limiting device is installed, the consistency of finished products can beguaranteed.
Item

(Unit)

YAN79Z -40

YAN79Z(K) -63

YAN79Z(K) -100

YAN79Z(K) -200

YAN79Z(K) -315

YAN79Z(K) -500

YAN79Z(K) -630

Nominat pressure

kN

400

630

1000

2000

3150

5000

6300

Push-up force

kN

280

350

400

850

1000

1400

2000

Max.pressure of liquide

MPa

25

25

25

25

25

25

25

Slide-stroke

mm

350

400

400

500

500

600

600

Push-up stroke

mm

150

200

200

250

250

300

300

Daylight

mm

120

120

150

150

150

150

150

Speed

Fast down

mm/s

120

120

120

100

100

100

100

Slow down

mm/s

20

18

15

12

12

12

12

Return

mm/s

100

120

100

80

60

80

60

Push-up

mm/s

48

40

40

40

35

40

40

Return

mm/s

48

45

45

45

45

45

40

Up-oil cylinder

(Coption)

Max. pressure

kN

8

11

11

18

18

22

22

Max. return pressure

kN

4.5

5

5

9.5

9.5

11

11

Max. stroke

mm

30

30

30

30

30

30

30

Down-oil cylinder

Max. pressure

kN

30

30

60

80

80

120

120

Max. return pressure

kN

10

10

35

50

50

60

60

Max. stroke

mm

100

100

120

200

200

200

200

Table size

mm2

450 x 450

560 x 490

700 x 580

950 x 700

1120 x 800

1200 x 1000

1300 x 1000

Power moving cylinder option

Max. pressure

kN

80

80

80

80

80

125

125

Max. stroke

mm

80

80

80

80

80

80

80

Driving cylinder for floating die-frame

Pressure

kN

45

45

45

45

45

65

65

Max. stroke

mm

100

100

100

100

100

100

100

Ass.cylinder

Max. pressure

kN

20

23

23

25

25

27

27

Max. stroke

mm

30

30

30

30

30

30

30

Main motor

kW

7.5

7.5

15

22

30

37

Overall size

L-R

mm

1760

1800

3010

4200

4575

5775

5820

F-B

mm

2310

2400

1300

1700

2425

2500

2630

Over-floor

mm

3500

3600

4000

4500

4800

5200

5700

Bellow floor

mm

400

600

600

1500

1500

1700

1900

Side-cylinder

(Coption)

Max. pressure

kN

30

30

30

30

30

80

80

Max. return pressure

kN

19

19

19

19

19

50

50

Max. stroke

mm

60

60

60

80

80

80

80