JGN Series Metalcraft
---
With strong support from SJR Machinery, Toptech Smac now is able to offer both metal cutting and metal forming machines to our valued customers. The produce lines include lathes, milling machines, grinding machines, power presses and hydraulic press brakes, CNC machines. With timely service and on-site training, our qualified technicians can ensure the machines' maximum productivity. Toptech Smac also provides industrial solutions for your individual needs.
Keywords: machine tool 丨 grinding machine 丨 CNC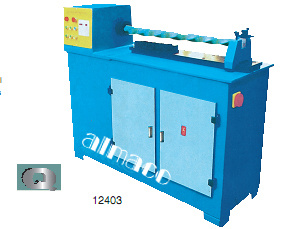 The tool-set is an equipment for processing the twisted metal crafts for ornamental objucts. It can twist the metal materials spiral patterns which can be sued as ornamental objects.
Item

JGN-25A

Max. Sizes of Stocks to be Processed

Flat Steel

30 x 10

Square Steel

25 x 25

Rotating Speed of the Main Shaft

12

Specification of the Motor

Power (Kw)

2.2

Voltage (V)

220/380 50Hz

Net Weight (kg)

300

Grass Weight (kg)

400

External Size (L x W x H) (mm)

1390 x 500 x 1170

Packing Size (L x W x H) (mm)

1550 x 680 x 1280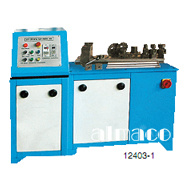 JGN-25B METAL TWISTING TOOL, designed and produced by our company,is a motor appliance for special purpose. Taking the advantage of the feasible distortion, the processed workpiece is spiral state. In addition, a beauty effect can be created by using the auxiliary Iantern-producing devices. The tool can widely be used in the fields of architecture, decoration, furniture-making and municipal gardening. Having been constantly improved, the tool can be operated manually for processing on stocks in small quantity or on a certain single stock. It, moreover, can control semi-automatic operation through optical-electronic data code system, suitable processing workpieces in large quantity. The machine features simplicity in structure, economy in electricity consuming and high efficiency in operation. It has won plpularity among its users.
Item

JGN-25B

Max. Sizes of Stocks to be processed

Flat Steel

30 x 10

Square Steel

25 x 25

(mm)

Twisting size of Stocks to be Processed (mm)

6 x 6 x 170 10 x 10 x 210 8 x 8 x 190

Lantern twisting length of Stocks to be Processed (mm)

6 x 6 8 x 8 10 x 10

Hardness of Stocks to be Processed

Mild Steel: tensile Strength 6b<=500N/mm

Rotating Speed of the Main Shaft (r/min)

12

Specification of the Motor

Power (kw)

3

Voltage (kw)

220/380v 50Hz

Net Weight (kg)

300

Grass Weight (kg)

400

External Size (L x W x H) (mm)

1400 x 580 x 1050