JGW Series Metalcraft
---
With strong support from SJR Machinery, Toptech Smac now is able to offer both metal cutting and metal forming machines to our valued customers. The produce lines include lathes, milling machines, grinding machines, power presses and hydraulic press brakes, CNC machines. With timely service and on-site training, our qualified technicians can ensure the machines' maximum productivity. Toptech Smac also provides industrial solutions for your individual needs.
Keywords: machine tool 丨 grinding machine 丨 CNC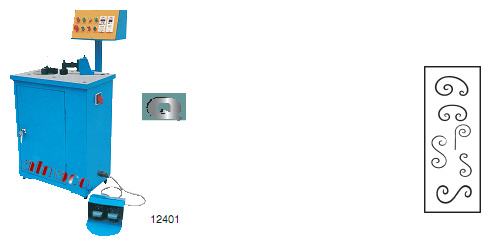 The tool-set is a machine developed by ourselves. It endables the users to get pretty and practical or ornamental objects as well as the structure pieces for industrial uses widely applied in field of decoration.
Item

JGW-16

Max. Sizes of Stocks to be Processed

Flat Steel

30 x 10

Square Steel

16 x 16

Round Steel

Φ16

Rotating Speed of the Main Shaft

15

Specification of the Motor

Power (Kw)

1.5

Voltage (V)

220/380 50Hz

Net Weight (kg)

220

Grass Weight (kg)

275

External Size (L x W x H) (mm)

750 x 570 x 1290

Packing Size (L x W x H) (mm)

870 x 630 x 1250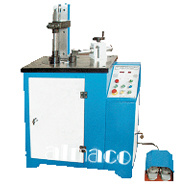 Model JGW-16-2 is a special semi-automatic electric bending & twisting tool,which can work either independently or in cooperation with other machines with different functions to form a complete production line. By using the machine,you can instantly and easily produce various ornaments or metal structurearticles for industrial purposes in different styles out of square, round and flat metal profiles. In addition, the tool-set can perform both square and stripe steel twisting by employing appropriate auxiliary components. With a lantern-pro-cessing die, the tool can accomplish lantern or basket-like ornament processing.The tool-set can be used in wide range of fields related to architecture,decoration, furniture-building and municipal gardening. It is also an ideal machine for individual handworkers' workshop.
Item

JGW-16-2

Scrolling capacity (mm) (Max. Capacity)

Round steel

Φ16

Flat steel

30 x 8

Square steel

16 x 16

Twisting capacity (mm) (Max. Capacity)

Square steel

14 x 14

Lantern Twisting capacity (mm) (Max. Capacity)

Square steel

6 x 6, 8 x 8

Spindle speed (r/min)

15

Motor

Power (Kw) Speed (r/min) 1400

Voltage 220/380V 50Hz

Overall dimension (L x W x H)(mm)

1300 x 562 x 1020

Gross Weight (kg)

275