Hydraulic Baling Press
---
With strong support from SJR Machinery, Toptech Smac now is able to offer both metal cutting and metal forming machines to our valued customers. The produce lines include lathes, milling machines, grinding machines, power presses and hydraulic press brakes, CNC machines. With timely service and on-site training, our qualified technicians can ensure the machines' maximum productivity. Toptech Smac also provides industrial solutions for your individual needs.
Keywords: machine tool 丨 grinding machine 丨 CNC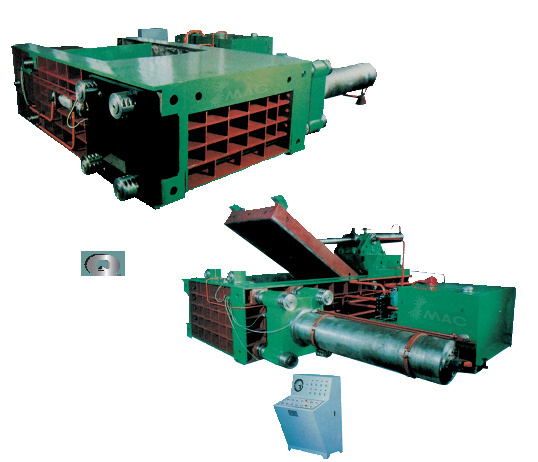 Main Structure Features:
Y81 series of hydraulic metal scraps balers (compactors) are applied in steel plants, recycling companies, ferrous & non-ferrous metals smelting industry to compress steel parts. Scrap steel, iron, brass, aluminum and other scrap metals into cuboids, cylinders,octagons & all other shapes, so as to reduce the costs of transportation & smelting.
Baling press has 6 models from 63 to 630 tons. Compression box, bale shape to be designed to accommodate metal scraps.
Bale density>1800kg/m3 ; baling cycle 80 to 160 seconds.
Bale-discharging alternatives: "turn-out", push-out" or "forward-discharge"; operation altematives: manual or PLC control utomatic.
No foundation bolts needed during installation; use diesel engine or electricity for power.
| | | | | | | | | | |
| --- | --- | --- | --- | --- | --- | --- | --- | --- | --- |
| Model | Specification | Nominal Force (KN) | Compression Box Size (mm) | Baling size (mm) | Density (kg/m3) | Cycle Length (sec) | Power (kw) | Overall size (cm) | Weight (tons) |
| 11901 | Y81-63B | 630 | 1100 x 600 x 420 | 300 x 200 x 250 | >=2 | 120 | 7.5 | 350 x 240 x 190 | 5.5 |
| 11902 | Y81-63C | 630 | 1010 x 500 x 370 | 300 x 150 x 150 | >=2 | 120 | 7.5 | 286 x 193 x 146 | 3.3 |
| 11903 | Y81-100C | 1000 | 1600 x 700 x 480 | 500 x 300 x 300 | >=2 | 120 | 15 | 400 x 280 x 222 | 11 |
| 11904 | Y81-160 | 1600 | 1600 x 1200 x 750 | 600 x 360 x 360 | >=2 | 120 | 30 | 548 x 385 x 252 | 13 |
| 11905 | Y81-160B | 1600 | 1800 x 1300 x 750 | 600 x 340 x 400 | >=2 | 120 | 22 | 548 x 385 x 252 | 16 |
| 11906 | Y81-250C | 2500 | 2500 x 1800 x 900 | 700 x 460 x 560 | >=2 | 240 | 37 | 610 x 600 x 400 | 37 |