ZGS Combined Substation
---
With strong support from SJR Machinery, Toptech Smac now is able to offer both metal cutting and metal forming machines to our valued customers. The produce lines include lathes, milling machines, grinding machines, power presses and hydraulic press brakes, CNC machines. With timely service and on-site training, our qualified technicians can ensure the machines' maximum productivity. Toptech Smac also provides industrial solutions for your individual needs.
Keywords: machine tool 丨 grinding machine 丨 CNC
Product Description
ZGS combined transformer, or American transformer, is developed according to the needs of the development of urban and rural power grid construction. It is the large transformer with switchgear, fuse, tap-changer, low-voltage distribution equipment combination on the corresponding auxiliary equipment, can satisfy all kinds of demands of the user electric energy metering, reactive power compensation. ZGS type combined transformer as ac 50 hz, 6 ~ 10 kv network, the rated capacity of 63 ~ 1600 kva independent sets of variable distribution equipment, can be used in outdoor, also can be used for indoor. Widely used in industrial park, urban residential area, commercial center, high-rise buildings and temporary construction site and other places.
Product Advantages
Compact structure, small size, convenient and flexible installation;The high-voltage side adopts double fuse protection, in which the plug-in fuse is a dual sensitive fuse (temperature, current), and the backup fuse is a current-limiting fuse, which reduces the operating cost;It can be used for both ring network and terminal. The conversion is very convenient and the reliability of power supply is improved.The transformer has a three-phase three-column or three-phase five-column structure, and the iron core adopts a stepped joint process or a rolled iron core process, which has low noise, low loss, and strong resistance to short circuits and overloads.
Product Parameter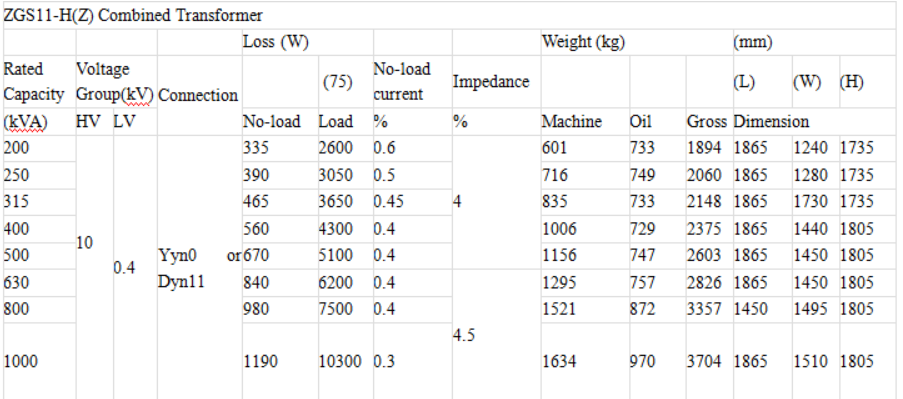 Ordering instructions
The customer shall provide the following information:
- Schematic diagram of primary loop and system diagram of secondary loop
- Electrical schematic diagram and terminal layout of auxiliary circuit
- Equipment layout drawing, combination drawing and floor plan
- Model, specification and quantity of main electrical components of the equipment
- Inlet and outlet methods and cable specifications
- Equipment enclosure material and color
- Other special requirements can be negotiated with the manufacturer